In addition to crypto asset trading, we also offer services where you can get good deals on Bitcoin.
Buy/Sell
Buy/Sell allows customers to easily buy and sell crypto assets at any time.
Multiple currencies are available

We support Bitcoin, Ripple (XRP), Ethereum and more.

You can use small amounts

Using our simple interface, you can buy and sell from as little as 1 JPY.

Some fees are waived

There are no fees for Buy/Sell and deposits made from Sumitomo Mitsui Banking Corporation. More information can be found here.
Exchange
Exchange service lets you set your own prices for buy or sell trades.
Simple trading

Our simple and easy to understand interface makes it possible for beginners to buy and sell Bitcoin.

Limit order support

In addition to normal buy and sell orders, you can also set limit orders to give you a wider range of options.

Order book on display

You can use the information on the order book to determine how much you want to buy and sell.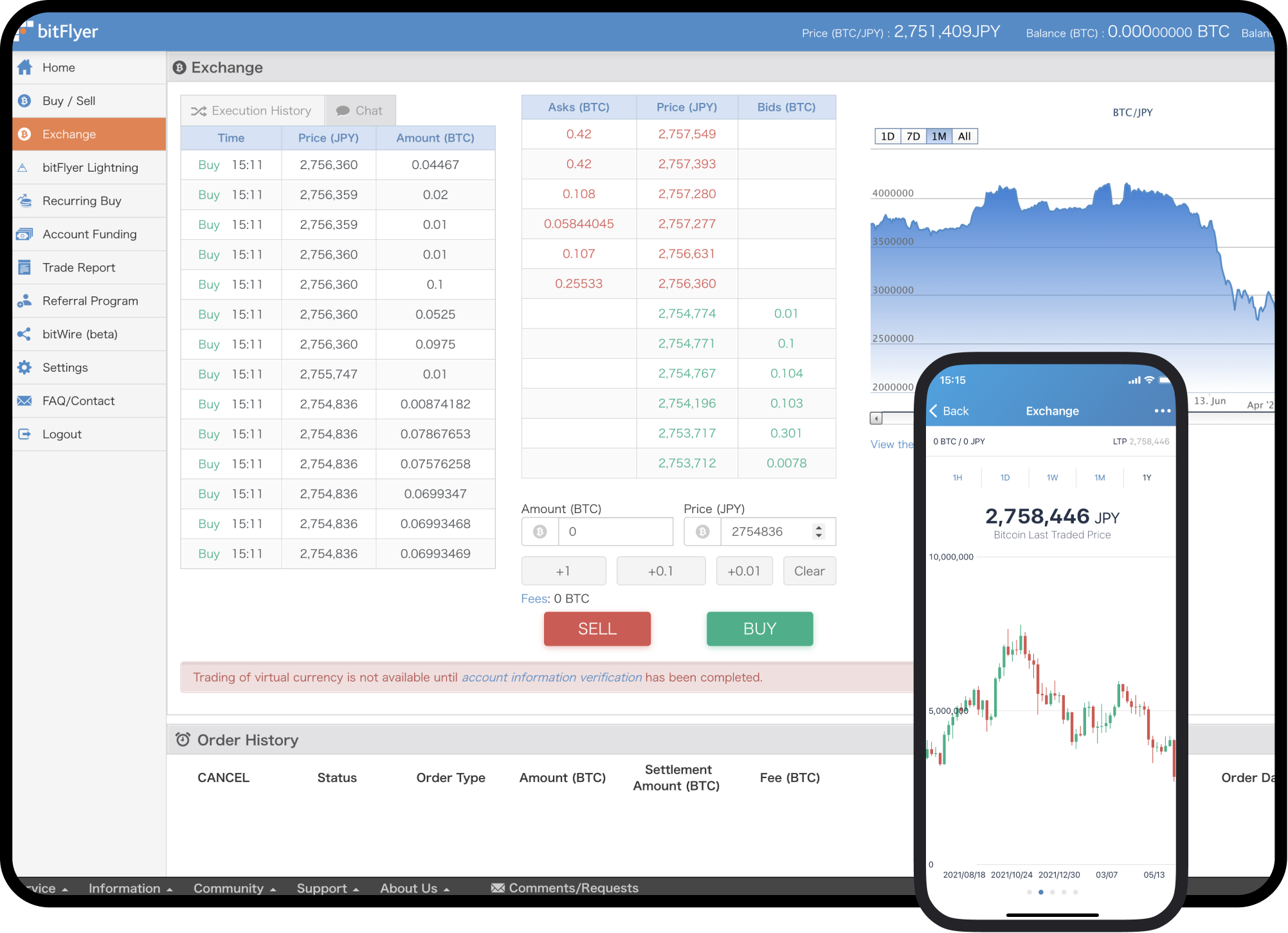 bitFlyer Lightning
bitFlyer Lightning is our trade platform that supports spot trades, margin trades, and futures trades for crypto assets.
Special order support

We offer a wide range of crypto asset trades with our special order interface.

Margin trading support

With Lightning FX and Lightning Futures, you can use up to 2x leverage, making it possible to profit whether prices increase or decrease.

Some fees are waived

There are no fees for Bitcoin FX trades and JPY deposits through Sumitomo Mitsui Banking Corporation. More information can be found here.
Other services
bitFlyer Recurring Buy

You can automatically purchase your favorite crypto assets on your own schedule.

bitFlyer Credit Card

Use our credit card to earn Bitcoin cashback rewards based on how much you spend.

Referral program

Invite your friends to bitFlyer and you can both gain Bitcoin rewards.

T-POINT exchange

This service lets you exchange T-POINT for Bitcoin.

Earn Bitcoin

You can earn Bitcoin rewards by using various online services.

Brave browser integration

You can link bitFlyer to your Brave browser to earn BAT rewards.

Bic Camera shopping

You can shop at Bic Camera using Bitcoin both in-store and online.

Bitcoin donations

You can make donations in Bitcoin to the Japan Red Cross Society.
Corporate Services
Click here to ask us about our various corporate services.
adFlyer

We provide a structure for sending Bitcoin rewards. You do not need any holdings, and you can use it as an advertising expense.

Point exchange

This service lets you exchange various points for Bitcoin.

Bitcoin payments

We support payments at various locations and online stores like Bic Camera.
Services for engineers
bitFlyer offers a variety of API.
Lightning API

bitFlyer Lightning API Playground

chainFlyer API